Rhetoric, Politics & Culture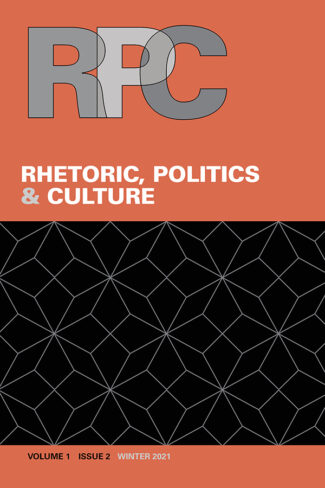 Journal Information
ISSN: 2693-7522
eISSN: 2693-7549
Frequency: Biannual
Description
Rhetoric, Politics, and Culture (RPC) embraces a pluralistic approach to rhetorical scholarship. The journal is open to a variety of methodological approaches, from close textual and/or historical analysis to critical/cultural, ethnographic, performative, artistic, and/or theoretical work. The journal invites scholarship on rhetorics of marginalization, structure, materiality, and power; politics, advocacy, and activism; and beyond. Foremost to its mission is featuring perspectives that question in/justice, in/equity, power, and democracy and that attend to interlocking structures of power within their geopolitical and historical contexts. This journal also invites rhetorical scholarship that archives, documents, theorizes, or participates in forms of individual and collective public interventions, advocacy, activism, and resistance to such structures.
Sponsoring Members
RPC Sponsoring Members
Rhetoric, Politics & Culture and MSU Press would like to thank the following departments, institutions, and individuals for their generous support of RPC's launch.
Total donations to date: $52,089
Each year, on this page, we will list the total annual expense incurred by the press to produce the journal. Production costs include author honorariums, copyediting, typesetting, online hosting, and subscription management.
| | |
| --- | --- |
| 2021 Production Cost Total |  $  4,632.56 |
| 2022 Production Cost Total |  $  4,259.15 |
| RPC Start-Up Fund Balance |  $ 43,197.29 |
Up to $1,000
Communication Studies, Creighton University
Department of Communication, University of Pittsburgh
Department of Communication, University of Wisconsin-Milwaukee
Department of Communication Studies, Gustavus Adolphus College
Department of Communication Studies, Southern Illinois University Carbondale
Department of Communication Studies, University of Nebraska-Lincoln
Department of Writing Studies, Rhetoric, and Composition, Syracuse University
National Communication Association
Texas A&M University
University of Georgia
University of Minnesota
University of Montana
University of Washington
Up to $3,000
Colorado State University
Department of Communication & Film, University of Memphis 
Department of Communication & Rhetorical Studies, Syracuse University
Department of Communication Studies, Northwestern University
Department of Communication Studies, University of Kansas
Northeastern University
University of Texas at Austin
University of Wisconsin-Madison
More than $3,000
Bryan Crable, Waterhouse Family Institute, Villanova University
Department of Communication Arts & Sciences, Penn State University
Department of Communication Studies, The University of Iowa
Hugh Downs School of Human Communication, Arizona State University
Other Sponsors (submitted online via MSU University Advancement)
Karrin V. Anderson
Scott Anderson
Rebecca Avalos
Lisa M. Corrigan
Vanessa Beasley
Jeffrey A. Bennett
Caitlin Bruce
Karma R. Chávez
Antonio De Velasco
Rosa Eberly
Amanda N. Edgar
Annee Fisher
Christina R. Foust
Marita Gronnvoll
Leslie A. Hahner
Jenna N. Hanchey
Roderick P. Hart
Megan F. Hartline
Annie Hill
Charlotte Hogg
Matthew Houdek
Jo Hsu
Brandon Inabinet
Seth Kahn
Diane M. Keeling
Casey R. Kelly
Ashley N. Mack
Megan McIntyre
Ryan Neville-Shepard
Christa J. Olson
Catherine H. Palczewski
Valerie Renegar
Eva M. Reyes
Elaine B. Richardson
Abraham Romney
Bradley A. Serber
Claire Sisco-King
Leland G. Spencer
Leah Sprain
Nathan Stormer
Mary Stuckey
Franklin Stuckey
Armond Towns
Sarah J. Tracy
Pamela VanHaitsma
Lynne M. Webb
Anna Young
Fundraising and Organizing Team
We would like to acknowledge and thank the organizing and fundraising efforts of these individuals, without whom RPC would not be possible.
Karma R. Chávez
Lisa Corrigan
Annie Hill
Lisa Flores
Andre Johnson
Jiyeon Kang
Bryan McCann
Ersula Ore
Candice Rai
Mary Stuckey
Armond Towns
Anjali Vats
Submission Information
Submissions to Rhetoric, Politics & Culture are accepted through our online portal. Users must register as authors in order to submit. Guidelines and instructions can be found here.
Editorial Policies
Rhetoric, Politics, & Culture invites original scholarship that examines rhetoric as a phenomenon rooted in relations of power. Essays may work within a variety of intellectual traditions addressing matters of rhetorical theory, history, criticism, and pedagogy. We also invite manuscripts engaging in archival analysis. Submissions should attend to the co-constitutive relationship between politics and culture in a variety of historical, geographic, and media contexts. Because this journal is the progeny of antiracist activism in rhetorical studies and cognate fields, we are committed to publishing intersectional and reflexive work that attends to its role in disciplinary histories. Successful submissions will engage in mindful citational practices and contribute to the conversations that gave rise to Rhetoric, Politics, and Culture.
We also invite individuals to submit review essays. In addition to book reviews, we encourage reviews of films, events, exhibitions, installations, digital projects, podcasts, and live performances that advance knowledge in rhetorical studies. From time to time, we will also invite themed reviews.
Lastly, Rhetoric, Politics, & Culture will regularly publish a forum section consisting of shorter essays addressing a common theme in rhetorical scholarship.
Section Policies
Articles
This section will focus on original articles and/or archival analyses
10,000 word limit
Submissions should follow the guidelines of Chicago Manual of Style 17th edition, endnote-style citations
Forums
RPC's forum section will be on special topics and curated by guest editors. Please only submit invited manuscripts to the system. If you have a forum proposal, please contact the RPC editorial office.
Rhetoric in Review
The review section will not only include book reviews, we encourage reviews of films, events, exhibitions, installations, digital projects, podcasts, and live performances that advance knowledge in rhetorical studies.
Reviews may also appear as conversational engagements with several authors responding to several new books around a common theme. If you have a proposal for such a project, please contact the editors.
Review pieces generally have a 4,000-word limit, but this can be discussed with the editors.
MANUSCRIPT PREPARATION
RPC follows the Chicago Manual of Style, 17th ed., and uses endnote-style citations. Refer to the to the RPC Style Sheet to prepare your manuscript for submission.
IMAGES AND DERIVATIVE MATERIALS
It is the author's obligation and responsibility to determine and satisfy copyright and/or other use restrictions prior to submitting materials to MSU Press for publication.
Images must be submitted as supplementary, clearly-labeled files at time of submission.
All images must be minimum 300 dpi at planned publication size.
Citations, permissions, and captions are required upon submission for all images.
We cannot publish such materials without an accompanying signed permissions letter.
Publishing Agreements
Authors accepted for publication must agree to the terms of the Author Publishing Agreement before the piece can be published.
Editorial Board
Editors
Bryan J. McCann, Louisiana State University
Ersula J. Ore, Arizona State University 
Executive Committee
Karma R. Chávez, University of Texas-Austin
Andre E. Johnson, University of Memphis
Vani Kannan, Lehman College
Jacqueline Jones Royster, Georgia Institute of Technology
Khirsten L. Scott, University of Pittsburgh
Anjali Vats, University of Pittsburgh
Editorial Board
Sara P. Alvarez, Queen's College, CUNY
Steven Alvarez, St. John's University
Robert Asen, University of Wisconsin-Madison
April Baker-Bell, Michigan State University
Robin Boylorn, University of Alabama
Bernadette Marie Calafell, Gonzaga University
Kundai Chirindo, Lewis & Clark College
Jasmine Nichole Cobb, Duke University
Lisa M. Corrigan, University of Arkansas
Bryan Crable, Villanova University
Todd Craig, Medgar Evers College, CUNY
Lisa A. Flores, University of Colorado Boulder
Jenna N. Hanchey, University of Nevada, Reno
Jiyeon Kang, University of Iowa
Abraham Khan, Penn State University
Ashley Noel Mack, Louisiana State University
Louis Maraj, University of Pittsburgh
Aja Martinez, University of North Texas
Kyle T. Mays, University of California, Los Angeles
Tiara R. Na'puti, University of Colorado Boulder
Ersula Ore, Arizona State University
Eric Darnell Pritchard, SUNY Buffalo
Elaine Richardson, Ohio State University
Yanira Rodríguez, West Chester University
Armond R. Towns, University of Richmond
Amy J. Wan, Queen's College, CUNY
RPC Statement on Antiblackness and Antiracism
Rhetoric, Politics & Culture Statement on Antiblackness and Antiracism
At a time when Black people and their allies fill city streets across the US in response to antiblack violence from the state and other institutions, rhetoricians must reflect on what we might meaningfully bring to the table. Many in our field have always had a great deal to say about the role of rhetoric in affirming the value of Black lives and struggling against the myriad social forces that would snuff it out. As teachers and theorists of rhetoric today, a moment such as this certainly calls for our collective work to be more consequential.
Although Rhetoric, Politics & Culture did not arise from a collective effort to confront white supremacy at the level of law enforcement or public policy, our story is one of the racism that permeates our profession. While a letter penned by Dr. Martin Medhurst, and another collectively written by almost all National Communication Association Distinguished Scholars, sparked the activism that gave rise to this enterprise, these problems are not new. The overwhelming whiteness of our field's journals, award recipients, tenured ranks, graduate programs, conference participation, and syllabi testify to the agonizing fact that rhetoric's whiteness is an inherent feature. The Black Radical Tradition, from Carter G. Woodson to Sylvia Wynter, reminds us that schooling, disciplinary knowledge, and the structure of the academy are rooted in the theories and processes that create and sustain antiblackness. Our field's origins are also in white supremacy and the logics that make Black people such as Ahmaud Arbery, George Floyd, Tony McDade, Breonna Taylor, and legions of others vulnerable to premature death also sustain the norms of rigor, merit, and distinction that permeate rhetorical studies.
For these reasons, we are less interested in identifying what rhetorical theory and criticism might bring to bear on the current explosion of activist discourse in response to Black death than we are in reflecting on how rhetorical scholars ourselves can respond to the antiblackness that finds expression in our professional and quotidian practices. Instead of describing others' activist rhetoric, we wish to center intersectional antiracist deconstructions of the ways we do our work in the field. To this end, we recommit Rhetoric, Politics & Culture to its antiracist mission and call on our colleagues to join us in continuing to address the following:
Disrupt rhetoric's canonical politics and citational practices to include Black voices in ways that challenge and refine our norms of intellectual inquiry.
Promote scholarship that engages Blackness and all other positionalities through an intersectional lens.
Name and confront antiblack and other violent professional practices that even the self-fashioned progressives among us tolerate and perpetrate. These include, but are not limited to:

Engaging in harassment, gaslighting, and other aggressive practices that entrench the marginalization of Black and other minoritized individuals.
Relying on overwhelmingly white professional networks to recruit faculty and students.
Using norms of evaluation that center white knowledge practices and marginalize Black and other minority epistemologies.
Weaponizing review and promotion processes to punish outspoken Black and other minoritized colleagues.
Dismissing the critiques of Black graduate students and defending and ignoring the rampant white violence, from faculty and other graduate students, in our graduate programs.
This is obviously an incomplete list and we invite our colleagues to build upon it. Our most fundamental commitment in drafting this statement is to strengthen the structures of accountability that call upon this journal to contribute, in whatever modest ways it can, to disrupting the hegemony of whiteness in rhetorical studies. Doing so requires that we think not only of what critical tools we have to offer those who confront antiblackness in public life, but also take stock in the material consequences of the antiblackness that shapes our profession.
Call for Papers
Rhetoric and the Abolitionist Horizon: Endings, Openings, Ruptures, Beginnings
On the horizon, the world of the here and now blends into and with the (im)possibilities of our monadic past/present/future: places we have (not) been, people we have (not) met, experiences we have (not) had, worlds that have (not) existed. For some, the horizon is an ever-receding vanishing point: a limitless frontier to be conquered. For others, the horizon is the monadic site of our existence: we have been to the mountaintop; we have seen the promised land; we have lived in the end of times; we have experienced our annihilation. The horizon, for us, is not an ephemeral, ever-expanding frontier to be conquered; the horizon, for us, is the site of our (im)possible existence.
It is little wonder, then, that the phrase "the abolitionist horizon" has become so pervasive in contemporary abolitionist rhetoric. Abolitionist groups like All of Us or None (AOUON), Black and Pink National, Black Youth Project 100 (BYP 100), Critical Resistance, the Formerly Incarcerated & Convicted People and Families Movement (FICPFM), The Revolutionary Abolitionist Movement (RAM), the Sisterhood Alliance for Freedom & Equality (SAFE) Housing Network, and the Undercommoning Collective, Project NIA, are led by, with, and in memory of those who have live(d) in the end of times as they work toward otherwise possibilities. Contemporary abolitionists have drawn on this language of the abolitionist horizon reflecting their commitments to confront and break free from structural and interpersonal violences, heal old and open wounds, and demand that we build a better world for all.
For abolition, as Mariame Kaba reminds, is not about destruction or tearing everything down but is rather about building a new society that cultivates new ways of be/coming and relating, opens space for transformative justice, and moves toward healing and liberation. Or, as Ruth Wilson Gilmore asserts, "abolition requires that we change one thing, which is everything. Abolition is not about absence, it is presence. What the world will become already exists in fragments and pieces, experiments and possibilities [….] Abolition is building the future from the present, in all of the ways we can." This speaks to the queer temporality of abolition, where the then, now, and what-shall-be come together in a revolutionary configuration of sense-making and sense-breaking, world-making and world-breaking—an (im)possible horizon where societal transformation and liberatory futures are already a given. The abolitionist horizon is already here, now, as an unfolding possibility, as that which has already happened and is always happening in moments of rupture and instability, and as a backdrop to speculate about what might come next.
For this special issue, we invite you to submit 7500-word essays (inclusive of notes and references)—in any style, genre, and form—that seek to re/locate rhetorical studies along this radical and open horizon. Submissions should adopt abolitionist frameworks, look to ongoing abolitionist histories, and speculate about abolitionist futures in ways that might transform the discipline (or do away with the borders of discipline altogether) and contribute to building a better world for all. Contemporary abolitionists such as Angela Davis, Ruth Wilson Gilmore, Mariame Kaba, adrienne maree brown, Dylan Rodríguez, Leanne Betasamosake Simpson, Allegra McLeod, Robin Maynard, Kelly Hayes, Damien Sojoyner, Lorgia García Peña, Rachel Herzing, Fred Moten and Stefano Harney, Yasmin Nair, Woods Ervin, Andrea Ritchie, and many others are rooted in revolutionary histories of anti-slavery activism, informed by W. E. B. DuBois's calls for abolitionist democracy, and inspired by Black feminist thought and queer intersectional politics. And while the prison industrial complex and institution of policing are the primary and most publicly known targets in abolitionist movements such as #defundthepolice, others have called for an abolitionist university studies, for the abolition of borders, the abolition of whiteness, the abolition of (so-called) Man, of gender, of capitalism, the wage, big oil, and much more—for these things are all deeply networked and connected. Similar conversations have also appeared in rhetorical studies scholarship, from PCARE's groundbreaking work, David Cisneros call for a rhetorical studies with a "telos of abolition," Lore/tta LeMaster's forthcoming Women's Studies in Communication forum "Against Carceral Feminism, Toward Abolitionist Futures," Dreama Moon and Lisa Flores's critical and intersectional engagement with Race Traitor's call for the abolition of whiteness, Jessica Hatrick's work on abolition and the university, and the many conversations taking place at conferences, in the university undercommons, and which are beginning to take shape in doctoral dissertations and graduate seminars and essays.
We invite submissions that build on these conversations, imaginaries, and histories. We recognize that this journal was born of a moment of crisis and rupture in the discipline of rhetorical studies and built on a chorus of voices demanding transformation. Thus, we are not looking for pieces that center diagnostic criticism and "criticism-as-usual" unless such diagnoses are rooted in and foreground abolitionist hope, praxis, love, and possibility, etc. We encourage essays and other works that take risks and reflect on bold leaps of imagination, refuse the order of discipline by offering different ways of doing what we call "rhetorical studies," and ground their perspectives in abolitionist sense-making and theory-building. In addition to these orientations and commitments, we welcome essays that:
consider what an abolitionist democracy might look like and how a transformative rhetorical studies might contribute to realizing such openings and ruptures
recognize, intentionally build on, and center Black people, brown people, indigenous people, poor people, and those with disabilities, who are incarcerated, queer, transgender, neurodivergent, or at the intersections and otherwise on the margins who have long animated abolitionist thought, movement, and praxis
draw out new concepts and vocabulary from the spaces of dispossession, displacement, and radical hope that harbor the seeds for building something new
center movements, coalitions, and collectives that reveal abolitionist praxis and possibility and which offer insights into forms of world-breaking/making that are already here and all around us
imagine speculative futures and possibilities rooted in material struggles and ongoing histories
engage aesthetic and artistic practices that offer resources for survival, undercommoning praxis, being otherwise, and world-breaking/making
think through abolitionist pedagogies and how abolitionist frameworks might challenge the university industrial complex, refigure university labor, and create space-times for survival, mutuality, affirmation, and joy
embrace otherwise forms of being/becoming and relationality that offer models and/or signs of different possible worlds and liberatory futures beyond race, gender, cisheteronormativity
articulate how "forgotten" and suppressed histories, from Black Wall Street to the Haitian Revolution, continue to shape the abolitionist present and future in piecemeal ways
While this is certainly not an exhaustive list, each of the above prompts represent themes that are pervasive among abolitionist movements, histories, theory, and ongoing struggles, and which we believe could aid in the project of transforming rhetorical studies into something subversive, liberatory, and full of radical hope and potential for what might or already is manifesting along the abolitionist horizon.
Submission Deadline: September 1, 2023
Decisions & Feedback: October 15, 2023
Revision Deadline: December 15, 2023
Final Draft Deadline: TBD
Special issue coeditors: Logan Rae Gomez, Matthew Houdek, and Robert Mejia
Questions can be directed to Matthew Houdek at mthuwp@rit.edu.
Submissions accepted via the RPC submission portal. Select "Special Issue Submission" as the section type during submission to designate that your submission is for the special issue.